Feeding of liquid foodstuffs is available with one Greedy®Pump.
The pump can not only smash but convey bread, vegetables, or leftover food at a time.
The pump has clog‐ free design for the minimized maintenance. Even in case of clogging, cleaning is very easy; by using the attached cleaning handle, you can clean up inside the pump without disassembling.


It is the appearance of the hogs in the farm. When visited the hog farm where the DAIEI's Greedy®Pump is used. The farm owner kindly explained how smoothly the system is working lives the hogs are enioying.
Installation site of Greedy®Pump:
the photo shows model GRY*80.

In the hog farming site, the hogs are the major players. Of course, "meal" is a pleasure to hogs. To supply a good quality meal to hogs, various types of twists and efforts are made by the farming owner.
The "liquid hood" supplied by the feed maker is a major base of meals to hogs.
Bread, which is one of a favorite food of hogs, and vegetables are added as seasoning items. Then, nutritious meals for hogs will be prepared.
DAIEI's "Greedy®Pump" plays an important role which feeds stable meals to hogs.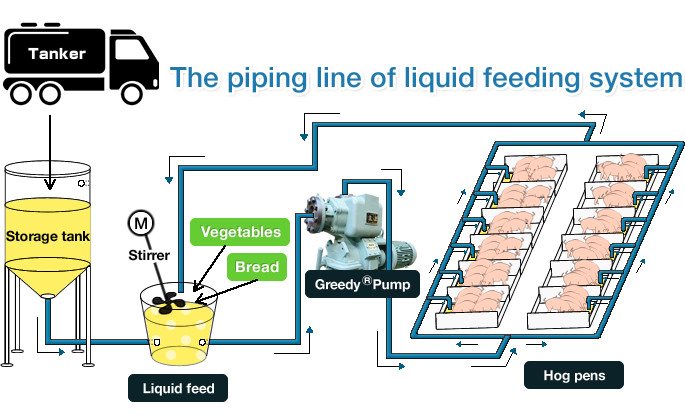 《Features of Greedy®Pump》
By furnishing an effective combination of the circulation piping for priming, the volute structure of the pump can realize the maximum suction height 8m. Usually, it is a setup with suction height 3m; stable self-sucking performances can be secured.
Even if foreign substances and solids are mixed, feeding can be done smoothly.
Moreover, if these substances are blocked in the inside of a system, an attached chopper can draw out the blocked substances without disassembling piping. The impeller part can be cleaned easily. Details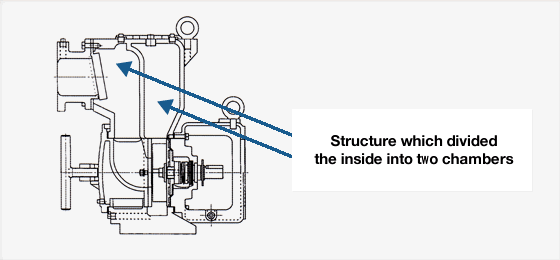 ---
《Features of other companies' pump》
● Submerged pumps have problems in motor life, safety, and difficulty in tracing abnormal conditions.
● Slurry pumps cannot handle both the liquid containing big foreign substances and solid materials.
 When the system is clogged, it is necessaly to disassemble piping, which means time loss and useless cost.
● Horizontal‐axis pumps need disassembling piping when a foreign substance is blocked.
● Common pumps have thin casing materials. So, when failed, temporal fixing with adhesives will be required. In such cases, the system becomes unstable and frequent repair repeats.